Welcome to the BITCH's Homepage.
On this and subsequent pages I hope to chronical the life of my 1983 Harley-Davidson Sportster, XLX-61.

I bought it in 1986 from a dealer in western Michigan. They used it as a drag bike until the EVO Sportster came out and they retired it. When I got it there was only 2500 miles it....2500 VERY HARD MILES. Within 4 months of buying her, she rejected the transmission leaving parts and pieces scattered on the road behind her... Hence the name "Bitch". Had to take her apart and have a new transmisson section welded to the cases. Since it was apart, I rebuilt the engine and obiviously the tranny. Over the years I have replaced every moving part at least once... Some probably 2 or 3 times..And now I'm doing it again...
The Latest Progress Pics...

As I make noticable progress I'll post the new pics on the front page.

09/19/2005
The motor is back in the frame. I've got to finish assembling it and start on the wiring... The oil tank is at the Powdercoaters, and should be back tomorrow. I still have to fabricate the forward controls and exhaust.

09/25/2005
The motor is together, the oil tank is in, I have to run the oil lines. I have to measure and order new brake lines, Finish the bars, and rewire it. Paint is my last item....

11/07/2005
It's been a real busy 6 weeks since my last up date. I was out of the country for a week, and have since been run ragged with my real job. Needless to say, progress has been slow... The wiring is about 80% complete, Plan to finish it today. I don't like the finish on the oilbag so, it's coming off and being redone. Handle bars are complete. Still gotta build the forward controls, exhaust and modify and recover the seat. Paint on the tank & fender looks like a good winter project. I have some updated pics, although it looks as though shes' gone backwards.


12/19/2005
Once again she seems to be going forward... Oil tank is done, my welds aren't the prettiest but it will not come apart or leak. I decided to go with a XLCR exhaust And modify to what I want. Fabbing all the misc. tabs, brackets for the speedo, forward controls, etc. I've decided to with a Jockey Shift and dump the shocks for struts. It's an ever changing endevor...

01/03/2006
HAPPY NEW YEAR.... The wiring is done. The exhaust has been blasted and is waiting to be coated and wrapped. I finally have my fork brace done, much thanks to my friend Harry. Now I'm fabricating my jocky shift, clutch pedal and rear brake lever assemblies. After that... It's Finish Paint time....

02/01/2006
It's been a month already... Jockey Shift and Suicide Clutch are done... Exhaust Is ready to wrap and clamp up. Few nickel & dime items, Finish Paint. Rework the Seat and shes ready to go... I plan on firing her up this Saturday....


02/26/2003 SHE'S FINISHED....
Finally !! I entered it in a bike show this weekend in Grand Rapids and took 3rd place ... Not to Shabby..
The FRAME

The Frame is basically a stock for 1983. Modifications on this build include adding 3 degrees rake at the neck, 3" stretch on the swing arm.

The stock Sportster battery box and oil bag have been trashed..I've built a round oil tank, and the battery (jell type) will lay at a 45 degree angle under the seat..

The front end has stock Sporty 35mm tubes, brakes, etc. in wide glide trees with a 3 degrees rake built in from a Softail...Wheels are stock Sporty/FX rear 16"x 3" 9 spoke mags. Up front the tire is 120/70/16 & rear will be 140/70/16


Tne MOTOR

Stock Sporty cases with a reinforced transmission section and trapdoor. 4.625" Stroke & 0.080 over bore. S&S flywheels, shafts, rods, pistons, etc. Sifton Baracuda Cams, Branch Heads, Barnett Clutches, Andrews Gears. Balanced & built to dead nuts spec. everything is NEW.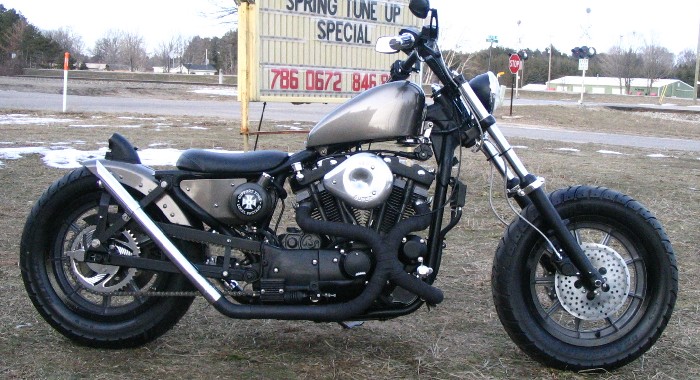 02/26/2006, She's Done... Next Step, RIDE IT!!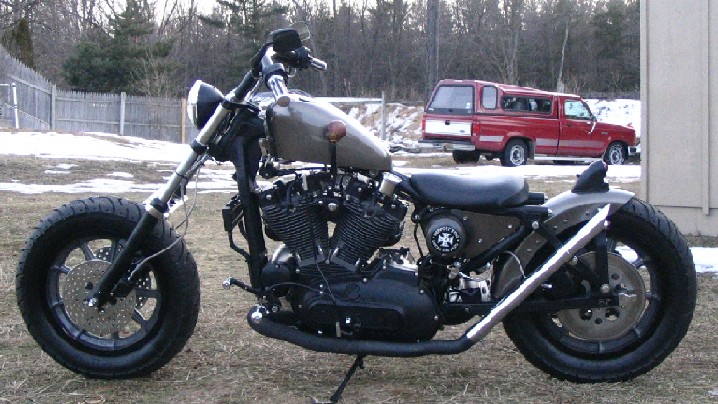 02/26/2006, The Other side...